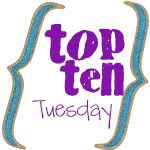 If you've never been shopping at a Trader Joe's, you're missing out. They have really good-quality, healthy gourmet foods at reasonable prices. (And some not-so-healthy foods, but hey, everybody needs a treat now and then!) So when you go, or go again, here's a list of some of our favorite items to get you started.
1. British Muffins — lovely, chewy deliciousness like no other English muffin out there. They don't have that weird tangy-ness that you find in some English muffins. I wish I'd bought two packages while I was there!
2. Asiago-Peppercorn Sourdough Bread — a slice of this, toasted, with some butter is a perfectly good meal, in my opinion. Divine in sandwiches, particularly grilled cheese or a BLT.
3. Freeze-Dried Fruit — Jonah loves the bananas, strawberries and blueberries, and I do, too! Crisp, sweet, no-sugar-added goodness. They also have mango, but not being a huge fan of mango, I haven't tried it yet.
4. Sweet Potato Chips — Dangerous for me to buy because I can polish off a bag in two days all by myself. Just so stinkin' good!
5. Dark Chocolate Covered Espresso Beans — Other people make these, and they're OK, but TJ's have an extra-rich coffee flavor that is superior to any other kind we've tried.
6. Dark Chocolate Covered Dry Roasted Edamame — I am the only one in my family who likes these, but I think that's because I don't always like my sweets super-sweet, if that makes any sense. Plus, as far as chocolate goes, these are pretty healthy. Lots of protein and fiber in the crunchy edamame, and dark chocolate is full of antioxidants.
7. Thai Red Curry Sauce — I like to stir-fry a bunch of vegetables, throw in a can of drained chickpeas, drizzle it all with this sauce and serve it over jasmine rice. Sooooo good!
8. Joe-Joe's Chocolate Sandwich Cookies — Besides their adorable name (we often call Jonah "Jo-jo") these cookies rock! I am not a fan of Oreos, but my husband is an addict. Even he admits that these are better than Oreos. They have vanilla bean flecks in the filling, which is soft and smooth. I can usually pass by an Oreo, but I might just have to have a Joe-Joe before they're all gone.
9. Wasabi Wow! Trail Mix — Wasabi peas, dried cranberries, raisins, almonds and peanuts make this a super yummy, hot-sweet-salty snack mix. (I've found I can mix my own in between trips to Trader Joe's.)
10. Buckaneer Joe's Unburied Treasure White Cheddar Corn Puffs — My boys love these, especially Jonah. They're similar to Pirate's Booty, or the expensive Gerber toddler snacks, but you get a ton of them for much less money. And as far as chip-type snacks go, these aren't terribly unhealthy. One serving is a big bowlful and it really makes the kids feel like they're having a decadent treat.